When planning a wedding in a venue or marquee you will have a choice between different styles and sizes. The first decision is whether you would like a wooden parquet, black and white or starlit. Most couples have in their mind the style they want so this tends to be an easy decision.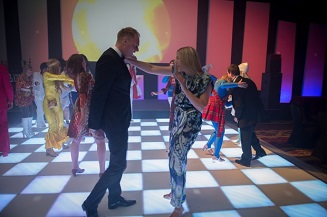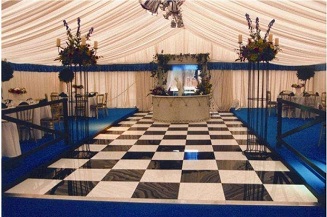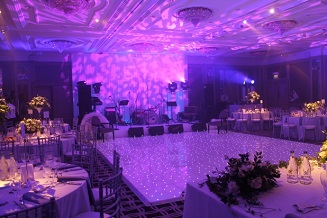 The next and most important questions is….. what size dance floor do I need? Obviously you will want plenty of room for your guests to party and dance; however, the larger the dance floor the bigger the budget. The key thing with planning and paying for a perfect size dance floor for your venue/marquee is keeping the guests happy but keeping the costs under control. It can be easy to overplan and overestimate what size you will require.
The rough key rule of thumb to use when deciding the size of dance floor you require is:
30% of the guests will be on the dance floor at one time.
Take a look at the table below as it gives you a good idea of the dance floor you need:
| Total Number of guests | Number of dancers at one time | Size of Dance Floor |
| --- | --- | --- |
| 60 | 20 | 10ft x 10ft |
| 100 | 30 | 12ft x 12ft |
| 150 | 50 | 15ft x 15ft |
| 200 | 70 | 18ft x 18ft |
| 275 | 90 | 20ft x 20ft |
| 400 | 140 | 25ft x 25ft |
| 600 | 200 | 30ft x 30ft |
| 1000 | 350 | 40ft x 40ft |
| 1500 | 550 | 50ft x 50ft |

It is common for couples to enquire about hiring a dance floor a lot bigger than is needed and it can be an unnecessary cost. We always suggest speaking with venues, marquee companies and dance floor suppliers to ensure you get exactly what you need.
The worst outcome is either hiring a dance floor too small
Or
Paying for a dance floor that is too big for the number of guests