When planning a marquee hire wedding or party not all venues provide essential services and utilities. For example, electrical, catering facilities and toilet facilities. At LEX Marquee Hire we stock and hire our Classic and Luxury toilet trailers.
Below is a guide to what size toilet trailer you will need for your wedding or event.
(For a 1-day wedding or garden party we suggest one of the following trailers)
Up to 90 guests – 1+1 Toilet Trailer
90 to 200 guests – 2+1 Toilet Trailer
200 to 275 guests – 3+1 Toilet Trailer
Up to 500 guests – 4+2 Toilet Trailer
To find out more information and photos of the toilet traielrs we offer then take a look at our toilet trailer page
If you are hosting a larger event/festival or a smaller event for multiple days, then get in contact and a member of the team can give you a bespoke quote based on your requirements.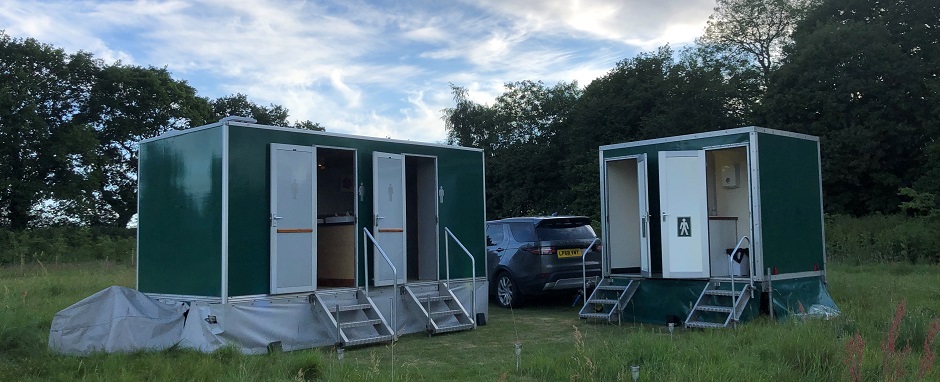 To help you with your planning we have put together a list of the most popular Frequently Asked Questions.
Do the toilets need a water supply?
Our toilet trailers are self-contained meaning a water supply is not needed for one-day hire period. For longer events we can offer a weekly service package or plumb in the trailer to the main. This is usually only for long term hire or venues.
What happens to the waste?
The wastewater is self-contained inside of the toilet trailer and is emptied after the event away from the venue. All wastewater is sent to a local treatment depot.
Do the toilets need electricity?
The toilet trailer will need to be plugged into a 13AMP power supply for the system to function. This is ideally provided by the electrical mains at the house or venue. Alternatively, the toilets can be powered by a generator. If you need a generator, please let us know or visit our generator hire page for a quote.
Will the trailer need to be emptied during my booking?
If you are hiring the trailer for a one-day wedding or party, then the trailer should not need emptying or serving during the hire period. However, if the event is much larger with more guests or runs more than one day then the trailer may require a service. It all depends on the amount of use over the hire period.
What does a service include?
A standard service includes a site visit from LEX Marquee Hire to empty the waste tank and refill with fresh water, refill the hand tap water tank, replenish, and refill consumables like soap, hand sanitise and hand towels. The company will discuss any servicing requirements with the customer prior to booking.
For large festivals or corporate events, we can provide a member of staff onsite throughout the hire period to keep the trailer serviced and fully stocked with consumables. This will be quoted prior to booking.
Where will you put the toilet trailer?
At time of delivery our team member will position the Luxury toilet trailer on flat & dry land. We do this so the trailer is safe and does not get stuck as well as ensure you and your guests can access the trailer safely without walking through mud or puddles.
When will you deliver the toilet trailer?
Prior to your booking we will discuss your requirements and any delivery details you or your venue have. We usually aim to deliver the trailer one or two days prior to the event however, we can accommodate other requirements if needed. We would then collect the toilet trailer a day or two after the event date.
What happens if there is a problem with the toilet trailer during my wedding or event?
Our toilet trailer range consist of new units and fully refurbished units and are well maintained throughout the year to ensure they are in top condition.
As standard we have a call out service so if there is a problem before or during your event, we will be onsite to address any problems. We will always try to solve any problems on the phone (It might be a case of something like forgetting to switch on the power etc).
If we are unable to solve the problem over the phone, then a member of our team will come to site quickly and discreetly. There is no charge for this service, however if the call out is without due cause then a call-out charge may be charged.
Are the luxury toilet trailers insured?
LEX Marquee Hire is insured for Public Liability and & Employee Liability, however the is customers responsibility to insure the hired services/items against loss or damage during the booking from delivery to collection. You can purchase an independent event insurance policy, but it is worth checking to see if this would be covered by your current home/venue/event insurance policy. At LEX Marquee Hire we do offer a damage waiver which can be discussed at time of enquiry or booking.
How much notice do I need to give before booking?

We suggest booking a luxury toilet trailer once you have decided you need one. If your event or wedding is during the summer months availability can be limited. If you think you will require a toilet trailer then get in contact with us by email, phone, or social media. You can also submit and enquiry through our contact us page.
Do you require a deposit?
We require a 30% non-refundable deposit to secure the toilet trailer for your date. The balance is due one month prior to delivery.

If you have any other questions, please do not hesitate to let us know.
This email address is being protected from spambots. You need JavaScript enabled to view it.
01189712180
07727198375
Facebook: /lexmarqueehire
Twitter: @lexmarqueehire
Instagram: @lexmarqueehire